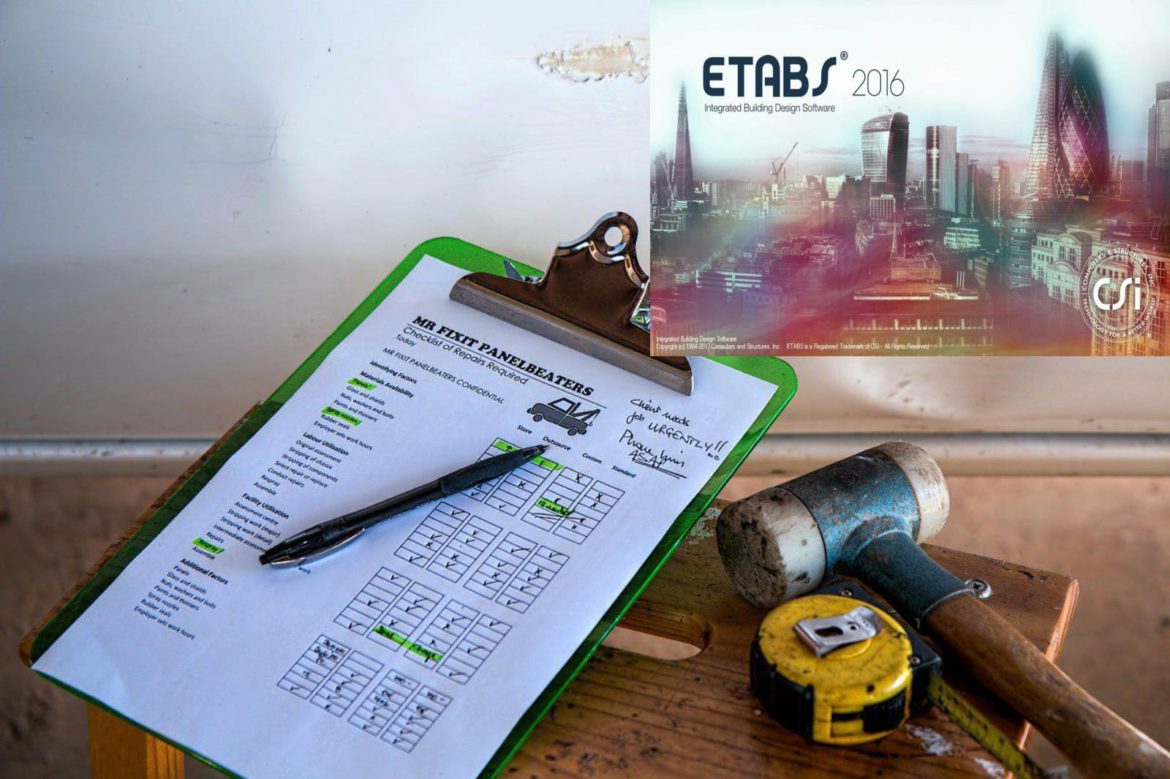 ETABS is structural design software that can perform both the analysis and design of structure being modeled. Learning this software is not as easy as it uses to be especially for those aspiring structural design engineer. This software is an integral part of Structural Designing since it is almost a complete design software that can perform finite element analysis as well as design specifically for those high rise towers/buildings projects.
Learning ETABS  is complicated at first, but eventually, you can use to it. All that we need is a little dedication and practice. But as a beginner, you have no idea how to start. Watching and reading articles related to ETABS Analysis and Design is a great help achieving the so-called "pro" in ETABS designing. The author writes a checklist to consider to narrow down the difficulty of ETABS learning. This is to guide the aspiring structural engineers to finally learn this powerful designing program.  They are listed below.
ETABS COURSE CHECKLISTS:
PART 1: MODELING
Setting Grid Dimensions
Setting the Story Data
Define the Code used in the design

Material Properties
Frame Sections
Assigning modifiers
Wall/Slab Sections
Assigning modifiers
Diaphragms
Response Spectrum Function
Static Load Cases
Defining Mass Source

Drawing Beams, Slabs, Walls & Columns
Meshing & Assigning ID Diaphragm

Manual Meshing for Walls
Automatic Meshing for Slabs

Checking the model for warning messages
Fixing warning messages
PART 2: ANALYSIS
Defining Static Load Cases
Defining Mass source
Response Spectrum Function
Assigning Diaphragm
Assigning Point Restrain
Set Analysis Option
Dynamic Analysis
P-Delta Analysis
Run Analysis
Post Analysis Check

Analysis log & results warnings
Global Force Balance
Modal Load Participation Ratio

Scaling
DRIFT CHECK
PART 3: DESIGN
Assigning pier labels
Shear Wall Design Check
Column Design Check
Exporting to SAFE for Foundation Design
Most of the topics on the above checklists will be tackled on the succeeding articles, so stay tuned. You can subscribe and follow the www.structuralworld.com for the updates.
Want to LEARN ETABS? No experience required!
The ETABS 2016 Black Book, is written to help beginners learn the basics of ETABS structure modeling and analysis. The book follows a step by step methodology. This book explains the designing of structure, assigning various properties to structure, applying different load conditions, and performing analyses. This book also covers the basics of detailing in ETABS. The book covers almost all the information required by a learner to master ETABS. Check out this product to learn more about ETABS!
---
Tell us your thoughts. Leave your message in the comment section below. Feel free to share this article, subscribe to our newsletter and follow us on our social media pages.
7,493 total views, 2 views today
Copyright secured by Digiprove © 2018-2019 The Structural World