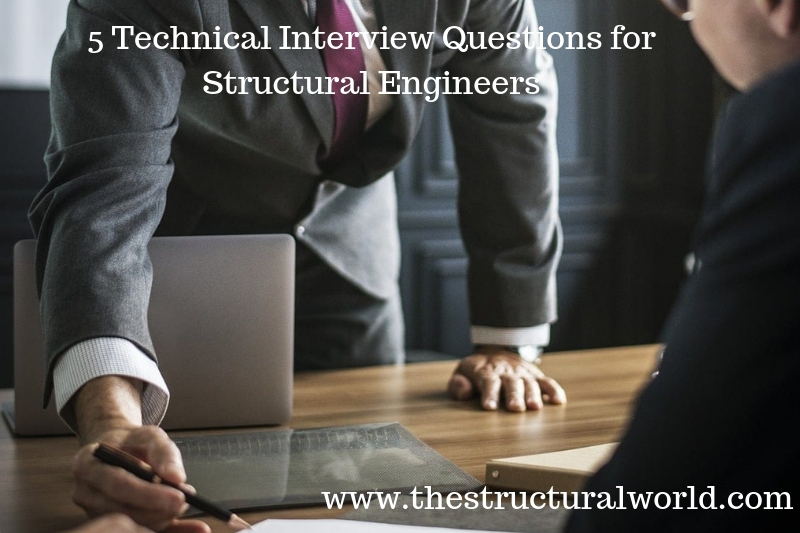 Looking for an employment opportunity in the field of Structural Engineering where ever you may be is a tough challenge. But landing for a job that you ever wanted is another milestone. But how to get there is a big question, because being shortlisted to an interview invitation itself is not that easy. So, when you got an interview invitation, it is better to make the most of it. Nowadays not only the unemployed are your competition in job hunting but even those employed individual are also included as they are continuously looking for a job-a greener field as they say. But how can we stand out and get noticed by the employer? Readiness and preparedness is the key to get noticed by the company as if you are prepared you will not feel pressured when it comes to the big day. Aside to the fact that a non-technical interview question like introducing yourself and how many years of experience you had is a given question already, here are the five possible technical interview question or topics in structural engineer's post that an interviewer will ask you about.
1. Sketch the Shear and Bending Moment Diagram
This is the most common question or task that an interviewer will ask you. This will measure your analytical ability when it comes to design proper. We all know that structural software is taken over the design analysis, but still, a fundamental knowledge in determining the shear and bending moment diagram is important. Usually, the interviewer will give you sets of free body diagrams for you to sketch the shear and bending moments. As an applicant, be sure to be prepared for these sets of questions by all means and get ready to dig those old notes back in college if you already have forgotten about it. You don't need to focus on the complex problems but a quick review on simple shear and BMD problems for a day or two prior to the interview proper is a big help to refresh your stock knowledge about the said.
2. What are the Structural Engineering Soft wares that you use in Structural Design?
When it comes to design and analysis of a structure, structural engineering software is being part of it.  Sometimes you will ask to model a simple structure to test your ability to use the different structural software. But don't worry; your modeling ability of the structure is usually the task to do. So better be prepared and refresh your skills in structural modeling. If you don't really know what's the interviewer is asking you to do, be honest and tell him/her in a polite manner. In case you are wondering here is the Top 5 Structural Engineering Software that usually asks during the interview.
3. What are the Governing Design Codes and Its Uses?
Knowledge of the structural design codes is another thing to be reviewed before going into an interview as this is one of the frequently asked questions. You don't have to memorize all the parameters of these codes but at least you should aware of the governing code to use. The usual codes we are using in structural design are the ACI 318 code or BS8110 for the design of concrete structures and IBC, UBC 97 or ASCE-7 for design loadings and combinations as well as wind and seismic analysis. You should also be aware of the local codes to use as recommended by the local authorities. So make sure that you are equipped with design code knowledge for the possible questions regarding this
4. Provide a Manual Design Calculations
Simple design calculations are sometimes included in a technical interview for structural engineers like the punching shear principles, a design of beams or footings to name a few. So better to be prepared for all of those design related questions and try to review it so your mind will be refreshed. We know that you already tackled this previously and refreshing is a good way to jump-start to save the day.
5. Detailing and Sketching
As a Structural Designer, interpreting the design result in a drawing is part of it. That is why sketching or providing details is another task an interviewer will sometimes ask you to do. Most of the times it includes general details that are commonly used in structural drawing ranging from the simple typical details of beam reinforcements, footings, wall, to raft reinforcement details, wall sections and pile foundations to name a few. If you think you are struggling about the detailing and sketching, looking back to the structural drawings of previous projects that you made is a big help to overcome this task.
It is true that landing a job that you dream of is fulfilling because it can boost your capability and give you a career growth that you ever wanted. To get there, you need to overcome those obstacles and one of those is to answer the tough questions that an interviewer will give you. Although it is not an assurance because you are not the only one who is aiming for it. The technical know-how of the above interview questions gives you an edge over the other candidate for you to finally get what you wanted.
---
We'd love to hear from you! Are there any additional technical questions that you think the author may have missed? Tell us your thoughts by leaving your comments below and feel free to share this article. You can also subscribe to our newsletter and follow us on our social media pages.
12,812 total views, 2 views today
Copyright secured by Digiprove © 2018-2019 The Structural World