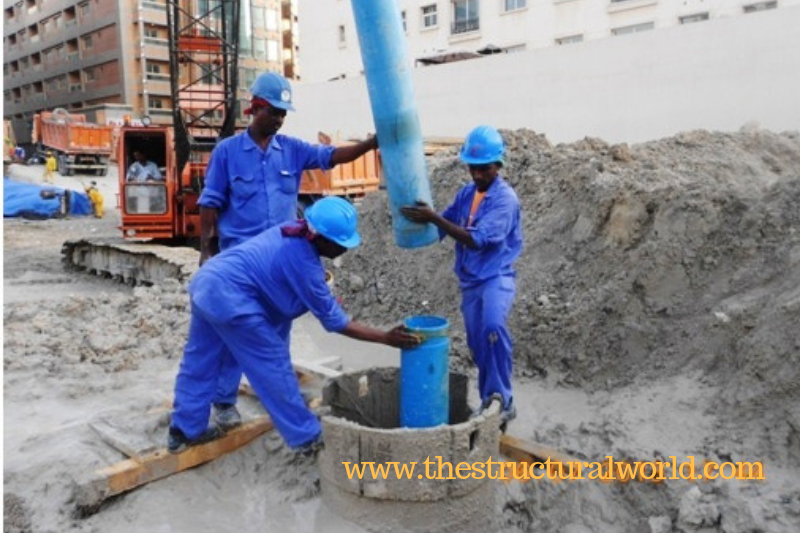 Dewatering System
Dewatering works are required in the project locations when the groundwater table was encountered higher than the formation level or the final excavation level. This is to ensure a dry excavation during the foundation works. This is to literally drive away the water from the site during the construction. An example of Dewatering Layout and Details have been provided below for your reference.
Prior to execution, a Method Statement is required to be submitted by the dewatering contractor for consultant approval. Method Statement has been discussed are follows:
1. Purpose
1.1 The purpose of this method statement is to describe the required standards and performance criteria to be used in the execution of dewatering works.
1.2 The purpose of dewatering is to provide a safe, stable, dry working environment in the excavation of (Project Description) with groundwater levels lowered to 1m below the final excavation level.
2. Scope of Works
2.1 The main contract works involve dewatering for the construction of (Project Description and Location).
2.2 To provide a safe, stable, and dry working environment inside the Project using perimeter deep well system.
2.3 The works covered in this method statement has been summarized as follows:
Procedure for rotary drilling for dewatering wells and piezometers
Procedure for Rotary drilling with Mud Flush
Procedure for Rotary Drilling with Air Foam/Mist
Installation, Testing, and Commissioning
Operation of the Dewatering System
Monitoring of Water Levels in the Standpipe Piezometers, and Measurement of Flow
3. Ground Conditions
The site investigation information should be provided and to be indicated in this section.
4. Method Statements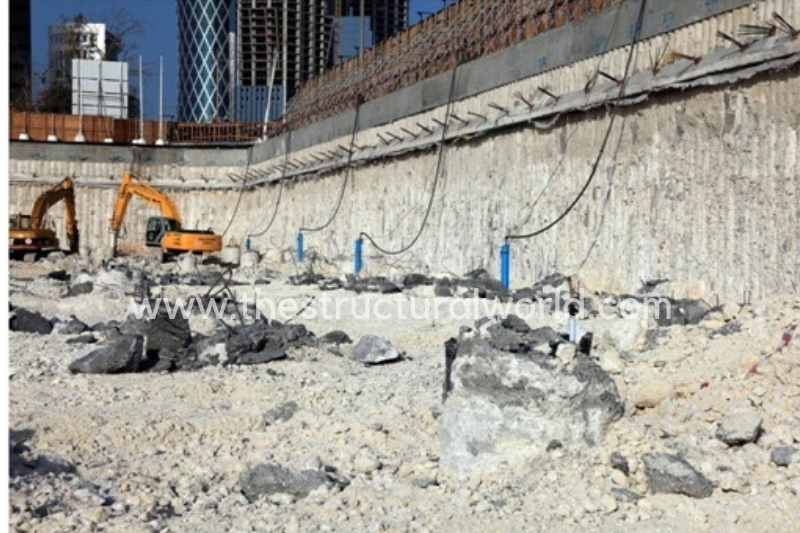 Dewatering in Progress during Excavation
5. Project Organization for Health and Safety Control
The organizational chart should be submitted by the contractor. Templates for the organizational chart is available for download.
5.1 Installation and Commissioning of Dewatering System
An assessment of the risks involved in the installation and commissioning of the dewatering system should be evaluated by the contractor. To evaluate the risk, a health and safety form should be submitted. Refer to the health and safety menu for templates.
5.2 Emergency Action Plan
The action plan shall be implemented at the site in events of emergencies.  The contact numbers of concern personnel shall be printed laminated and shall be posted around the site.
5.3 Risk Management Plan for Dewatering System
This is an assessment of the hazards and probable occurrences that could happen with the dewatering system. Precautionary control measures are also presented to prevent the hazard from occurring; however, action plans or responses together with the timeline for rectifying the problems are also detailed should the hazards occur. The actions and responses can be linked back to the Emergency Action Plan in section 5.2 above.
5.4 Risk Assessment and Management for Damage to Discharge Header main
This is an assessment on the likelihood and impact of a ruptured pipe on the dewatering system and the operations of the project as a whole after taking all precautionary measures specified and consideration of what response procedures are in place.
6. Workplace Access and Egress
6.1 All employees entering the construction area will do so by making use of the access provided. Only authorized employees will be allowed to gain access to the construction site.
6.2 All employees will attend the Project Health and Safety induction prior to entering the area of operation. Access permits will only be issued to employees on completion of the induction.
6.3 Transportation will be provided for workers to and from the site.
7. Workplace Lighting
7.1 Drilling, installation and commissioning works will be conducted during daylight; no work will be conducted after sunset except during emergencies.
7.2 Proper lighting shall be provided when working at night. Tower lights will be operated where required.
8. Plant and Equipment
The following plant and equipment shall be used during the drilling, installation and commissioning stage of the dewatering works
8.1 Drilling Equipment
rotary top drive drilling rig mounted on a crawler base (Soilmec 401, 405, or similar)
Temporary drilling casings
Drilling tools, rods, and bits
4WD vehicle or transit van
8.2 Support Equipment
2" suction pump and hoses
mud flush pump and hoses and/or 450cfm/170psi Air Compressor
8.3 Well Installation Materials
Filter gravel (crushed limestone 3mm to 6mm)
150 – 200mm uPVC Screen, 0.75mm to 1mm slots, 4m/6m lengths
150 – 200mm uPVC plain casing, 4m/6m lengths
8.4 Development Equipment
250 cfm compressor
Weighted air hose
8.5 Installation of HDPE header main
HDPE Butt-welding machine
Hand saws
6kVA power generator
8.6 Operation
Power Generators
Diesel tank with drip trays
Modular Automated Control cabin with control panels and electronic alarm unit
 9. Hazardous Material and Substances
9.1 Diesel fuel shall be used for the drilling rig, and other plant and equipment (e.g. generators, compressor).
9.2 Diesel shall be stored in diesel tanks with appropriate drip trays underneath to catch accidental spills or leaks. Drip trays shall also be placed under any immobile equipment that runs on diesel or petrol.
9.3 Diesel fuel shall be transferred from the tank into the various plant and equipment by a hand pump. Care shall be taken during filling to prevent spills. Temporary drip trays shall be used during filling as required.
10. Waste Management
Waste management will be carried out as per the procedure set out in the project health and safety plan.
11. Special Control Measures
11.1 The safety of all employees shall always be the highest priority during all operations conducted on the project.
11.2 All site operatives and staff working for this project shall attend the Project Safety Induction and the Contracting Company safety induction, prior to working at the site. All operatives will undergo an additional safety induction on the specific hazards of dewatering activities.
11.3 The responsible supervisor will conduct a Safety Task Analysis Risk Reduction Talk (STARRT card) prior to the start of work daily.
11.4 The contractor is committed to ensure minimal risk for its employees and employees of subcontractors and consultants, and to protect the public exposed to construction operations.
11.5 At a minimum, each site operative member will be equipped with PPE such as hard hats, high visibility reflective vest, steel toe cap shoes/boots, coveralls, safety glasses, and gloves.
11.6 When any operation becomes hazardous beyond reason due to unforeseen or uncontrollable circumstances, all affected operations will cease until safe working conditions have been restored. No operation will be considered as too important or urgent as to compromise the health and safety of any employee on site.
When to Shut Off the Dewatering Works
Perhaps the most common questions for engineers is when is the right time to stop or shut off the dewatering works. Dewatering works cannot be stopped until we are sure that is already safe to shut it off. Stopping it means that the water table will come back to its original state. Since the dewatering involves a tremendous amount of water uplift pressure, it is best to calculate whether the weight or mass of the structure is greater than by at least 25% compared to uplift pressure. Refer to Hydrostatic Uplift Check in Basement and Substructure for the detailed calculations.
---
What do you think about this article? Tell us your thoughts! Leave a comment on the section below. Subscribe to our newsletter to be updated with the latest posts or follow us on our social media pages on the below icons.
9,323 total views, 1 views today
Copyright secured by Digiprove © 2019 The Structural World