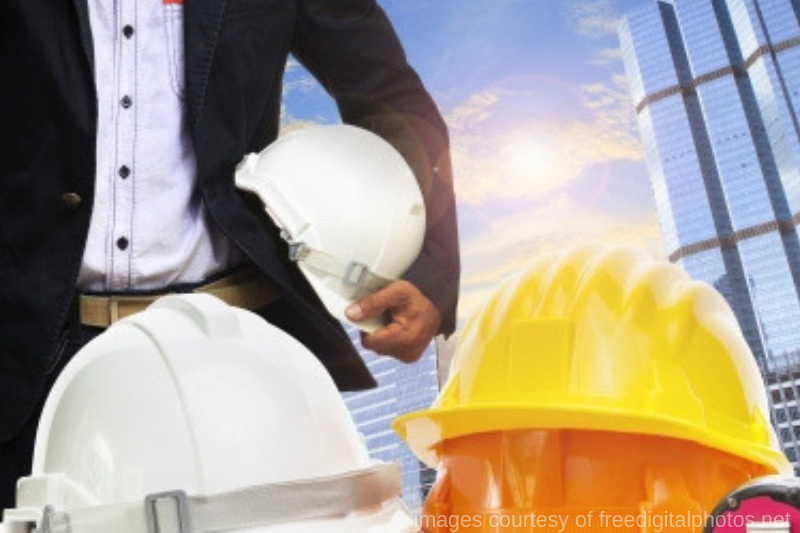 In construction, different site personnel has its own responsibilities. These employees are working together to achieve a common goal which is to complete the construction project that they are involved in.  From blue collar to white collar job responsibilities, each had their own contribution to get the project done. Site construction involves a vigorous activity. These activities are often prone to accidents, risks and maybe hazard to the lives of the workers involved in a construction project. Nevertheless, the safety of each individual working in a construction environment is the primary priority to be achieved.
Just like safety in structural design is a must, work environmental protection should also be taken seriously. In doing so, each worker's PPE or Personal Protective Equipment should be strictly implemented at the site at any cost in any given time. To satisfy PPE standards, each worker should wear proper construction attire to reduce or at least prevent and protect them against the safety risks to be able to achieve Health and Safety Environment throughout the course of the construction.
Here are the lists of Personal Protective Equipment (PPE) in Construction that every construction personnel should observe:
1. Head Protection/Safety Helmets/Hard Hat
In construction worksite, there is a higher chance of possible head injury due to falling debris and other related accidents.  Site Engineers and all construction personnel involved in site activities should wear a safety helmet or hard hat before entering the work site and it should be wear at all times.
The safety helmets/hard hat shall meet the specifications contained in the technical guidelines issued by the Specialize Department in accordance to international standards- OSHA or ANSI z89.1 Safety helmets/hard hats should be inspected by the safety officer to ensure that it is safe and reliable to use. It should be free from cracks and proper shock-absorbing lining of the helmet should be in good condition.
Looking for safety helmets/hardhats? Select the images below for the recommended head protections that meet the international standards. Color-coded hard hats are available according to usage.
2. Foot Protection/Safety Shoes
Safety shoes should be worn by all of the construction personnel at the worksite to protect their feet for possible injuries. The safety shoes to be used shall be determined according to potential hazards and according to the nature of work. It shall comply with the safety standard and specification.  For worksite safety shoes with steel toe cap covering and steel sole should be considered, although an equivalent material is also acceptable as long as it follows the safety standards. If the personnel is working in electrical installation, non-contractive footwear shall be used.
Refer to the below images for the recommended safety shoes that are approved by safety international standards. Select each photo for the product description
3. Protective Clothing/Reflected Vests
Every construction personnel should wear adequate and suitable protective clothing to protect them from possible hazard due to weather changes, electricity, impacts, and other risks. For Site Engineers a reflected vest is recommended to maintain visibility when doing site inspections and other site activities.
Refer to the below images for the recommended reflected vests that are approved by safety international standards. Select the images for the product details.
4. Eyes and Face Protections
Construction employees shall be provided with eye and face protection equipment when their job had a potential risk of exposing the eyes and face from hazard. They are the machines operators, welder, bar bender and the like. Those workers whose vision requires the use of medical spectacles shall be protected by eyeglasses with protected lenses, goggles that can be worn without disturbing their work activity.
Eyes and face protection equipment shall be free from structural and optical defects. Just like other PPE, it should also pass the required safety standards. Check out the following eyes and face protections available from the market. The detailed description is available when you select the image.
5. Hand Protection
All personnel handling rough, sharp and excessive coarse material such as reinforcement bars, rods, pre-cast concrete, toxic, electric and hot materials shall be protected by safety gloves. The material of these hand protections shall be suitable against the hazard of doing such activities. Site employees shall be protected by the different type of gloves according to their job description. For example, chrome leather gloves should be used when handling sandblasting and other materials. Gloves that are made of fabrics are used for handling rough materials. Insulated rubber gloves should be used by electricians.
The different types of safety gloves are available in the market. Refer to the images below for more.
6. Hearing Protection
In the event that noise levels in worksite are too much to handle, ear protected gear are also needed by the site personnel. Ear protected hazard inserted into the ear in the form of a headset, foam earplug and earmuffs shall be in accordance with international safety standards. Plain cotton to be placed in the ear just to block construction noise is prohibited to use.
The following are the hearing protection equipment that is recommended by international standard available to the market. Select each for product details.
 7. Safety Belts/Safety Harness
Site employees working at an elevated level to about 2m or more shall be provided by safety harness or belts to protect them from accidental fall. Anchorage point of the safety harness shall be placed above the head of the worker and not less than 5 meters from the ground level. This point should be strong enough to carry a force of not less than 5000 pounds (2275kg). The material should be made of nylon or equivalent to at least 1cm thick. The hooks attached should be fitted with a double locking device that can be open only by pressing the two parts at the same time for safety purposes.
The approved material for safety belts/safety harness is available below. Select the photo for full description.
PPE is a very important aspect to look at in site construction. Observing the above lists of personal protected equipment is a must in the construction site and it should be strictly observed at all times. This is to avoid hazards caused by physical, mechanical and chemical aspects to ensure for the construction team to create a safe and sound construction environment.
---
What do you think about this article? Tell us your thoughts! Leave a comment on the section below. Subscribe to our newsletter to be updated with the latest posts or follow us on our social media pages on the below icons.
 29,987 total views,  3 views today
Copyright secured by Digiprove © 2019 The Structural World